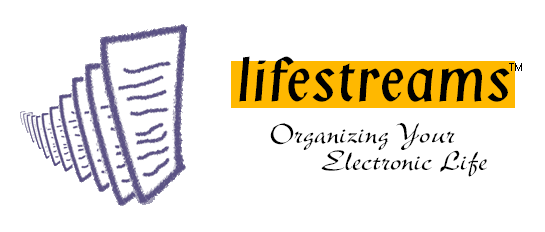 Welcome to the Yale Lifestreams homepage!
Update 2000
Welcome to the Lifestreams project homepage. Lifestreams was invented by Eric Freeman and David Gelernter as a network-centric replacement for the desktop metaphor. That original work is detailed in the Lifestreams dissertation:
Eric T. Freeman, The Lifestreams Software Architecture, Ph.D. Dissertation, Yale University Department of Computer Science, May 1997.
Printed copies can be requested by sending email to here.
Today people are envisioning many uses for the Lifestreams model. It's been almost four years since the Yale Lifestreams research at Yale ended, however there are a number of efforts underway that are in some way related to Lifestreams. Here are a few:
Mirror Worlds is a company started by David and I back in 1996; the company continues under his careful guidance creating Scopeware.
Xerox is working on a concept called Placeless Documents
Sony has an effort underway in Japan (link coming).
Ricoh is using the stream metaphor as part of its new eCabinet product.
David and I both believe Lifestreams is an idea whose time will come, one way or another. If you are working in an area related to Lifestreams I'd love to hear from you.
The Yale Lifestreams Project Page, Circa 1996
Lifestreams is a novel software architecture that was initially developed at Yale University. The goal of Lifestreams is to minimize the time users spend managing their documents and electronic events while increasing their ability to find and make use of this information. To accomplish this we have worked to create a software environment that parallels the way people work with electronic information and simplifies their electronic interactions. Lifestreams is built on a simple storage metaphor --- a time-ordered stream of documents combined with several powerful operators --- that replaces many conventional computer constructs (such as named files, directories, and explicit storage) and in the process provides a unified framework that subsumes many separate desktop applications to accomplish and handle personal communication, scheduling, and search and retrieval tasks. While our current prototype is tailored to managing personal information, a "lifestream" is also a natural framework for managing enterprise information and web sites; we are just beginning to explore such use.

This page contains news, articles, information and frequently asked questions about Lifestreams. Lifestreams was developed by Eric Freeman at Yale University as his thesis topic (under the direction of David Gelernter).

The following information is currently available about the academic project:
---
What are lifestreams?
A lifestream is a time-ordered stream of documents that functions as a diary of your electronic life; every document you create and every document other people send you is stored in your lifestream. The tail of your stream contains documents from the past (starting with your electronic birth certificate). Moving away from the tail and toward the present, your stream contains more recent documents --- papers in progress or new electronic mail; other documents (pictures, correspondence, bills, movies, voice mail, software) are stored in between. Moving beyond the present and into the future, the stream contains documents you will need: reminders, calendar items, to-do lists.

You manage your lifestream through a small number of powerful operators that allow you to transparently store information, organize information on demand, filter and monitor incoming information, create reminders and calendar items in an integrated fashion, and "compress" large numbers of documents into overviews or executive summaries.

You can read a vision paper here.
<! A 2150K Quicktime Video Preview of Lifestreams is also available above.>
Where did the idea of a "lifestream" come from?
Lifestreams had its beginnings in David Gelernter's "chronicle streams" (in his book Mirror Worlds) and was first described as a structure for managing personal electronic information in his Washington Post article "The cyber-road not taken" (available here).
What is wrong with today's systems anyway?
What is wrong with today's systems? Consider the "desktop metaphor," which attempts to simplify common file operations by presenting them in the familiar language of the paper-based world (paper documents as files, folders as directories, the trashcan for deletion). Although this metaphor has been successful to a point (one usually has to explain to a new user how the computer desktop is like a real desktop), the paper-based model is a rather poor basis for organizing information. The work of Malone, Lansdale, Carroll, Dumais and others has looked at the ways people use information and electronic systems and identified a number of problem areas. We've tried to lay out our argument in the following SIGCHI Bulletin article:

Scott Fertig, Eric Freeman and David Gelernter. "Finding and Reminding" Reconsidered. In SIGCHI Bulletin, volume 28, January, 1996.

Available:
Are there any technical papers available on Lifestreams?
The most current technical papers are available below. Lifestreams was demonstrated in video form at the CHI'96 conference, and we have an article in the February 1997 issue of Wired magazine.

Eric Freeman and David Gelernter. Lifestreams: A Storage Model for Personal Data , ACM SIGMOD Bulletin, March, 1996

Eric Freeman and Scott Fertig. Lifestreams: Organizing your Electronic Life , AAAI Fall Symposium: AI Applications in Knowledge Navigation and Retrieval, November, 1995, Cambridge, MA.

Available in:

Eric Freeman. Lifestreams for the Newton , PDA Developer, Volume 3.4, July/Aug 1995. Appears to no longer be available
Are others working on new ways of managing our information world?

Yes, there is a lot of exciting work going on; to name a few:
---
For all comments, questions and suggestions contact freeman-eric@cs.yale.edu.
Copyright © 1994 - 1996 Eric T. Freeman and Yale University